Media Services
---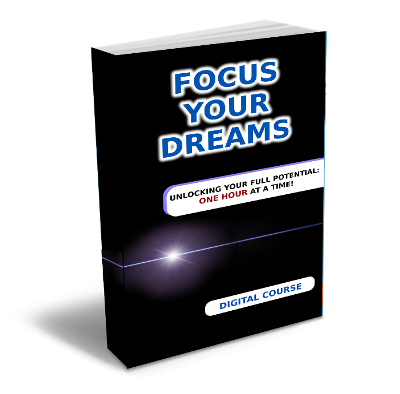 FOCUS YOUR DREAMS
The first of many private label products to come. This complete pack grants the purchaser a single license to rebadge, repackage, and resell it in whole or in part any way that you like. The action packed 20 page ebook will be a joy that will keep the reader hooked while teaching them to focus their energy and time to build their dreams. This kit comes with the ebook, all visual assets, advertizing thumbnails in various sizes, the original .psd files, as well as .xcf files for GIMP users, so you may modify it to your heart's content, a bonus time chart, social media swipes, hashtag analysis, and much, much, more. For just $3, you get all of this, and the right to cut it up, pack it together, rebrand it, or simply sell it as is. Add a landing page, and you can instantly resell it as a lead-magnet kit for a new marketer or website owner. Or just pop your name on a by-line and give it away to your email list as a "thank you" for subscribing. The possibilities are endless. This is the magic of Private Label Rights.
Available Right Now!
Advertizing Assets and Guidelines of which Every Author Should be Aware
Struggling to get your book moving? I've found that the simplest and most effective means for bringing a story to new readers is to give it away for free. However, whether you are discounting or running a free Kindle deal (our choice, which is why our books don't appear on other ebook sites right away), there's some generic advice you should consider before paying anyone money to advertize it for you:
The principle thing I look at is if they will be broadcasting the book to an email list. If they aren't, that's often enough of a red flag that I'll take a pass. If their site focuses on roping authors rather than showcasing books for readers, another red flag. If they are promising to do a stream of tweets and facebook posts only, and they still "feel" legit, check out some of their posts. These are public and easy to find. Are they converting users? Are they getting likes and shares? Is their audience even bothering to respond? A tweet that gets ignored is a dead tweet, and not worth any kind of money, no matter how large the "potential audience."
Of course, social posts make a good upsell. I tend to stick with advertisers who run "online book clubs." Site's like Booksy, Riffle, and Free99Books deliver value to their clients, they vet the products they push, and for the associated costs, they have been my best earners over time
If your book is a Kindle Exclusive, it makes freebie deals easy and effective. Using little more than the three sources in the last paragraph, I saw over 3000 readers to a new book in less than a week, and the Unlimited readers continue to trickle in without further advertizing. One freebie campaign ended up earning more for Incorporated First Strike than a 99cent deal on another book.
Why?
Because people are willing to take a chance on free books. All you have to worry about is having a book good enough that those people will tell their friends about it. I know it sounds counterintuitive, but every author must ask if they are in this for the long run, or only trying to one-off a few sales, and adjust your strategy accordingly. Here at GPP, we're in for the long haul. If a book can't get a response from this little push, it means bad cover or copy. If it doesn't continue to trickle sales in, then it might not be any good, or it's being marketed ineffectively. A free deal sometime AFTER launch, with no supporting publicity or press, will establish a baseline, and give us all the data we need to make a decision on whether to give it more push or merely backlist it for a while, or pivot by reconsidering its category and target audience.
That's pretty much it. Don't burn advertising dollars, and don't confuse unit sales and ROI alone with "success." Here at GPP, our metrics are how many people are telling their friends about the book (new sales appear without any funnel to push them) as a measure of a book's awesomeness, and only putting advertising money up if we can effectively monitor and leverage that particular advertiser. It's not hard for us to endorse the above mentioned sites, all of them putting readers ahead of authors (as it should be if they are selling books). Their results have been clear and decisive every single time I've used them.